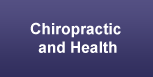 Home
Search This Site
Chiropractic Articles
Chiropractic Factoids
According to a survey of 1500 adults commissioned by Landmark Health Inc., one in six U.S. adults uses chiropractic services.
There are approximately 60,000 Doctors of Chiropractic in active practice in the United States today, according to the International Chiropractors Association.
According to the October 6th 1999 MSNBC web site, the number of chiropractic visits per capita has doubled in the past 20 years.
There are presently 16 chiropractic colleges in North America.
For the first time in history there are now presently more Chiropractic Colleges outside the United States than inside the U. S.
There are approximately 10,000 students enrolled in Chiropractic College.
The Chiropractic profession was started in 1895, in Davenport Iowa.