Health Insurers Continue to Add Chiropractic to Benefits
As reported in the Feb. 2, 2000 PRNewswire, American WholeHealth Networks, Inc., the largest health care network of complementary and alternative medicine providers in the US,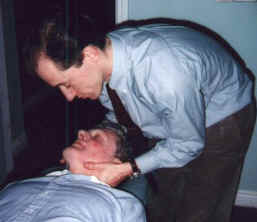 announced that the company will provide a chiropractic covered benefit and an alternative medicine affinity program to the over 400,000 individuals covered by the plan. Ray Seaver, American WholeHealth Networks president explained the move by saying "A growing number of people believe that optimal health is best achieved by treating the whole person-the physical, emotional, and lifestyle components that together affect ones health and well-being. People are using alternative medical services in unprecedented numbers, but they are paying significant out-of-pocket costs.'' Mark Selna, M.D., PARTNERS medical director states, "We think our members deserve choice and quality. Many are already using these therapies. We want to give our members the tools and knowledge they need to take responsibility for their own health and be an active partner in their care." Once again it seems the insurance industry and medicine are following the lead of the consumer who is asking for these services.